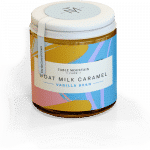 Vanilla Bean Goat Milk Caramel Sauce 5 oz.
$10.00
Good Foods Awards Finalist!
Sold By: Table Mountain Farm
Description
Enjoy a 5oz jar of our Vanilla Bean Caramel Sauce.
Whole Vanilla Beans are steeped in Goat's Milk for hours to produce a smooth rich vanilla flavor. The creaminess of this caramel joined with the sweet speckled vanilla bean is unlike anything we've ever tasted.
This sauce pairs perfectly with an Earl Grey tea, strawberry shortcake, fresh berries and cream, chocolate chip cookies, added to any pie or crisp, atop any ice cream or used to glaze salmon.
Ingredients: Goat Milk, Organic Cane Sugar, Fair Trade Vanilla Beans, Baking Soda.