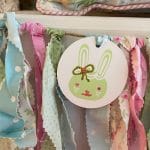 Description
This is a fun piece.
Can be used for both Easter and extended through Spring.
The ribbon portion from end to end is 27″.  From burlap string to burlap string – 64″  Plenty of twine at either end to hang.
The ribbons are movable if you care to make it shorter or longer.
Pastel colored torn ribbons hang down from burlap twine.
Every so often a white decorated wooden circle with a Spring saying will hang from the ribbons. Sayings are shown.
Hang this from your bookcase, fireplace, kitchen cupboard, back of a chair, from your hutch, mirror, or wherever suits your fancy.
You will love this piece.
Pillow and wreath not or sale.