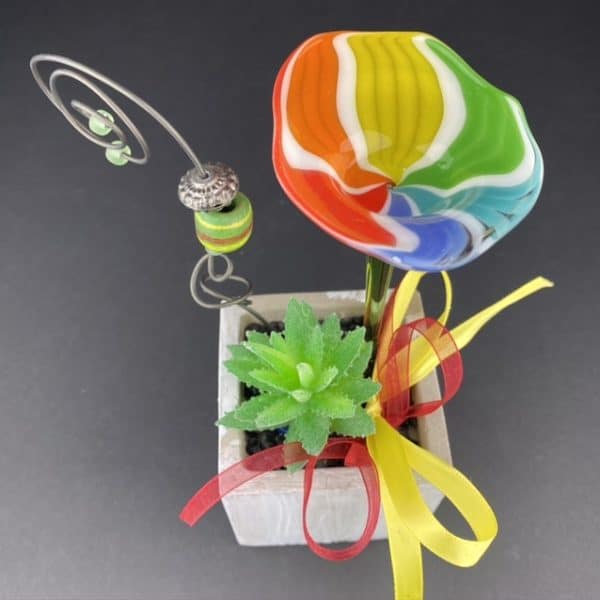 Glass Flower Rainbow of Fun Succulent Concrete Planter
$49.99
Blown glass rainbow that will delight and sparkle up your day. Comes with stunning artificial succulent in hand-painted concrete planter.
Sold By: Vivo Glass Design
Description
Enjoy this beautiful concrete planter turned into a work of art! We are so excited about it with its beautiful Rainbow colored blown glass flower, matching ribbon, our famous beaded, twisted wire curly-cue, and everlasting succulent.  This custom-designed classy concrete planter was hand-painted and then given a shimmer for a finishing touch!
Adorned with a specially made blown glass flower this artificial succulent planter never looked so good and the best part is it never needs watering or sun, but will certainly brighten up any corner, shelf, table, or desk of your home or office! The possibilities are endless.
Thinking of a gift? Why not give the everlasting gift, one that is handcrafted and needs no maintenance!
This stunning blown glass flower is themed in beautiful rainbow colors that will brighten up your day!  This beauty is made from the most colorful borosilicate linework tubing, and the entire piece has been handcrafted in beautiful, Wellington, Colorado.
The stunning concrete pot has a one-of-a-kind unique hand-crafted finish. Overall this planter sits about 7″ tall (including the flower) and we added extra touches like our specially made, twisted wire, curly-cue complete with ribbons!  Take home this little piece of glass and concrete beauty today and enjoy the uniqueness of its mixed-media design. Perfect for home or office, as a gift to a special person in your life. We apologize there is no pot of gold at the end of this rainbow but there is plenty of color and sparkle here to please the leprechaun in you!