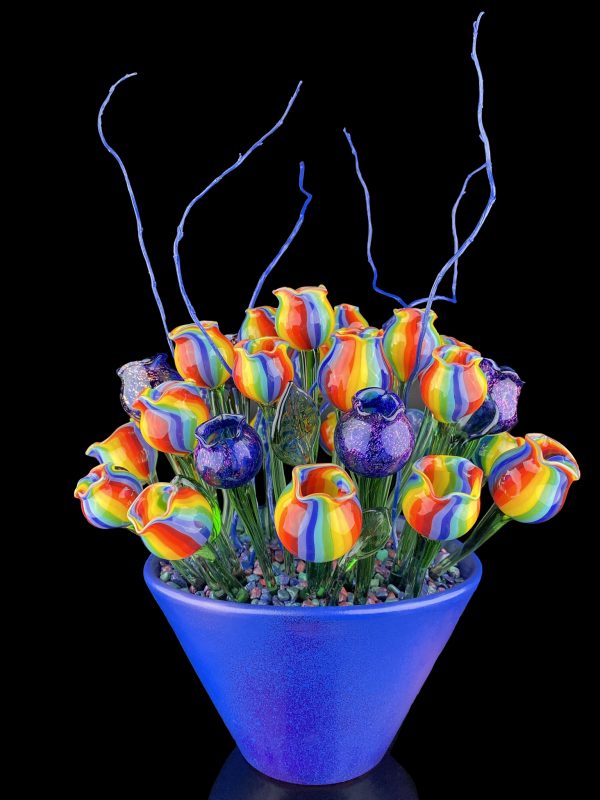 Spring Flowerpot glass flowers in a hand-painted purple ceramic pot
$449.00
Rainbow poppin' explosion of color flower pot!
Sold By: Vivo Glass Design
Description
Do you want flowers that really last?!  Ones that won't wilt and get droopy?! These blown glass flowers are just the thing.  They don't need water, sun, or maintenance at all!  You will be truly blown away with this unusual flower arrangement in a rich purple ceramic pot with stylish handpainted curly willow. And the best part is, these flowers will last a lifetime.  This specially made arrangement has 28 glass flowers and 10 green leaves in an upcycled handpainted pot making it one of the largest we've put together!  You can't help but love these brightly colored flowers! Created in beautiful Wellington, Colorado using the salvaged ends of glass color creations, these flowers came to life!  This piece of art would be perfect in an alcove with lights or as a table centerpiece! Don't worry about the setup, we've got you covered as your flowerpot will come fully built and ready to go right on your table to be enjoyed forever after!
Dimensions:  The vase is 4′ tall and 7″ wide at the top.  The tallest flower sits at 10″ tall and the height with the sticks is about 14′ tall.