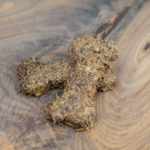 Description
Canine Candy Biscuits are homemade spent grain dog treats made from all local and natural ingredients. Jam packed with tons of nutritional benefits, these little snacks are like power bars for your dog!
6 Larger Biscuits Baked FRESH!
10% of all sales are donated to our Rescue of the Month 
Benefits
High in fiber and protein to aid in digestion and gut health
Essential amino acids help with healthy muscle repair and growth
Coconut flour cleans teeth, keeps a shiny coat, and helps to prevent ulcers in the stomach
Who doesn't love Peanut Butter?
Only four ingredients: Spent Grain, Peanut Butter, Farm Fresh Eggs, and Organic Coconut Flour
---
Only logged in customers who have purchased this product may leave a review.