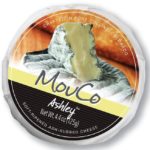 MouCo Ashley Cheese
$6.00
MouCo Ashley Cheese
Soft-Ripened Ash-Rubbed Cheese
Sold By: MouCo Cheese Company
Description
Additional information
Reviews (0)
Description
Keeping in the tradition with all of our cheeses, MouCo Ashley begins its life with only the freshest pasteurized whole milk we can find on the Front Range.
This silky, smooth cheese is soft and mildly sweet, delighting your taste buds with a surprising combination of tartness and ooey-gooey deliciousness.
We'd also like to think it speaks to your soul with verve and aplomb, but we'll leave that for you to decide.
As a finished product, Ashley draws its name from being covered in a fine layer of vegetable ash. Don't worry, it's edible! And oh-so good, too.
MouCo Ashley: Flavors and Aging Information
When Young: Buzzing with tartness, this young cheese has a light, stiff center while still aging.
As it ages: While ripening, a sweetness creeps in to compliment the tartness, while the pate becomes creamier in flavor and texture.
Fully Aged: Ashley is of age at 7 to 8 weeks, ripe, gooey and soft, while a definitive line indicates the edible rind. Complex with a hint of sweetness, the cheese hums with flavor and soul.
---
MouCo Ashley: General Cheese and Nutritional Information
Cheese Name: MouCo Ashley
Cheese Type: A soft ripened cheese
Milk Type: Pasteurized Cow's Milk
Weight: 4.4 oz. (125 g.)
Size: 3.25″ x 1.25 " (82.55 mm x 31.75)
Rennet Type: 100% natural, non-GMO animal rennet
---
Only logged in customers who have purchased this product may leave a review.