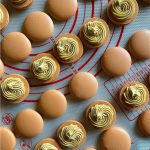 Macarons Variety Pack
$13.00 – $25.00
Choose "All Flavors" when checking out for one of each (or two of each if you get a dozen) of our featured flavors of the week. You can also pick single flavors with a minimum of 6 macarons per flavor choice. Product photos are just examples of our variety packs and different flavors. Flavors change weekly so your box may vary but will be equally as pretty and delicious! Check back next week to see what exciting flavors we  have next!
Sold By: Wild Bakery
Description
A variety of our weekly flavors in one box. Available in half dozen or dozen packs! 
Blueberry Pancake 
Honey Ginger Orange
Sour Cherry Marzipan
Chocolate Chip Cookie Dough
Irish Coffee
Strawberry Shortcake 
Here are the flavor profiles for our macarons this week:
Blueberry Pancake – A little taste of breakfast in macaron form! These delicious macs ar filled with an amazing homemade maple butter buttercream using high quality real maple syrup and then topped off with a dollop of homemade blueberry preserves in the center. 
Honey Ginger Orange – Ginger and fresh orange zest infused macaron shells filled with an incredible honey orange buttercream and little bits of candied ginger throughout 
Sour Cherry Marzipan – These macs are filled with an out of this world marzipan buttercream using our own scratch made marzipan and then filled with a dollop of tart sour cherry jam for the perfect balance and sweet and sour 
Chocolate Chip Cookie Dough – One of our more popular macaron flavors! Macaron shells topped with mini chocolate chips and then filled with a homemade brown butter brown sugar buttercream and an edible chocolate chip cookie dough center 
Irish Coffee – Calling all coffee lovers! We start these macs with espresso infused macaron shells and then fill them with an absolutely delicious Bailey's espresso chocolate ganache
Strawberry Shortcake – These macarons will make you want to cheat on your diet. Strawberry infused macaron shells filled with a homemade cake batter vanilla buttercream with a dollop of fresh strawberry jam in the center 
This product was produced in a home kitchen that is not subject to state licensure or inspection. This product is not intended for resale.
Allergen info: This product contains nuts, dairy, eggs, and may contain soy