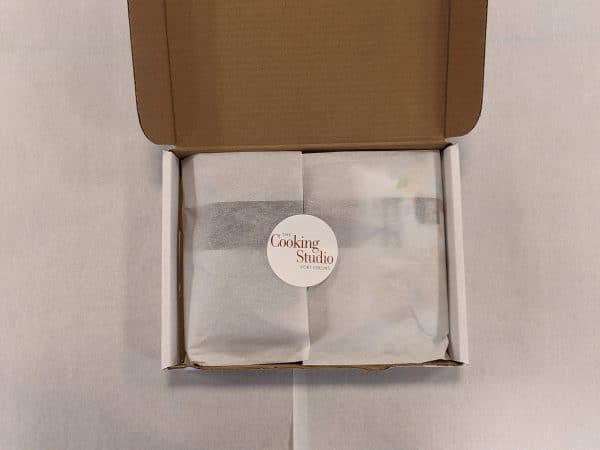 Homemade CBD Chocolate Kit in a Box
$38.50
(available for pick up or local delivery ONLY at this time)
Such a fun gift for the holiday! Everything you need to make homemade CBD chocolate candies in one box. We even include some gift bags and ribbon so you can eat a few and give a few to friends. This is perfect gift for the yourself or for adult on your list or any home cook with a love for chocolate.  If you would like to purchase the CBD Oil visit Authentic Hemp Company.
Sold By: The Cooking Studio
Description
(available for pick up or local delivery ONLY at this time)
Creating your own chocolate candies isn't easy, but once you learn to 'temper' you can create lots of fun chocolate candy creations.  In this kit you'll be using a candy thermometer and chocolate molds to make 16 cannabis leaf shaped chocolates with your individually determined dose of CBD oil.
Wrap them in foil and put them in the mesh bags provided.  If you want, you can surprise your friends with your chocolate treats. Just be sure to tell them the amount of CBD oil in EACH candy.
The items that come in the kit are below. You will need a sauce pan and a metal bowl to sit on top – or double boiler. *YOU MUST PROVIDE YOUR OWN CBD OIL and can buy it here on this website by visiting Authentic Hemp Company.
Items in your kit
1  Candy Thermometer
2  Cannabis leaf shaped silicone molds for making 16 chocolates
One 12oz bag of chocolate
1 spatula
20 candy foil wraps
4 gift bags
Ribbon
1 sheet of regular parchment
1 chocolate tempering recipe
Link to a video with step-by-step instructions by our Chef Instruction
*NOT in your box: CBD oil   (YOU MUST PROVIDE YOUR OWN CBD OIL)