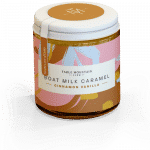 Cinnamon Vanilla Goat Milk Caramel Sauce 5 oz.
$10.00
Good Foods Awards Finalist!
Sold By: Table Mountain Farm
Description
Traditionally called Cajeta, a Mexican version of Dulce de Leche, an exact proportion of Vanilla Beans to Cinnamon Sticks steep for hours in boiling milk. The sweet notes of Vanilla Bean elevate the deep notes of cinnamon into a perfectly choreographed blend.
This sauce pairs perfectly with a Chai Tea or Cappuccino, apple and peach pies, thumbprint cookies, swirled atop brownies, peanut butter sandwiches, and (of course) s'mores.
Ingredients: Goat Milk, Organic Cane Sugar, Vanilla Beans, Cinnamon Sticks, Baking Soda.