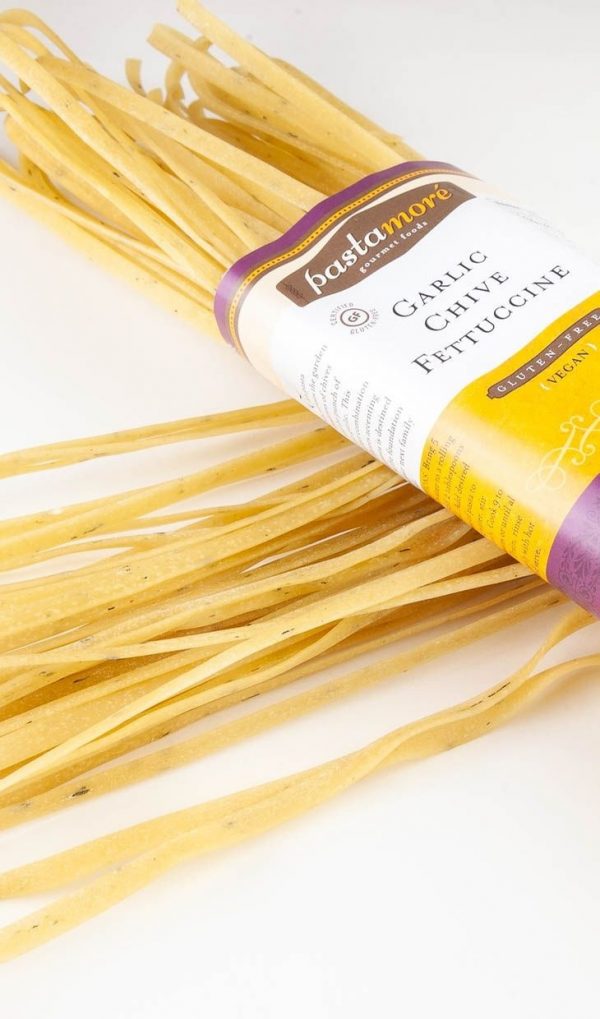 Garlic Chive Fettuccine (Gluten-Free)
$10.00
Our gluten-free Garlic Chive Fettuccine has the perfect flavor combination of fresh garlic and fresh chives. Cook 11 to 14 minutes in boiling water or until al dente*, then rinse thoroughly and toss with a pinch of salt. For delicious serving options, pair with a Pastamoré product such as Asian Dipping Oil, White Truffle Oil or Roasted Tomato Blend Dipping Sauce. Toss with steamed vegetables, grilled Italian sausage or beef medallions to enhance the flavor of the dish.
Enjoy the goodness of Gluten-Free!
*Cooking time is based on high altitude (5,280 feet). Lower elevations may need to decrease cooking time.
Vegan
Ingredients:
– Brown and White Rice Flour
– Xanthan Gum
– Garlic
– Chives
– Onion
– Extra Virgin Olive Oil
Made in a gluten-free, dairy-free, soy-free and nut-free facility.
No Trans Fats.
12 OZ (341g)
Sold By: Poppy Specialty Foods / Pastamore
Description
Additional information
Reviews (0)
Description
Our gluten-free Garlic Chive Fettuccine has the perfect flavor combination of fresh garlic and fresh chives. Cook 11 to 14 minutes in boiling water or until al dente*, then rinse thoroughly and toss with a pinch of salt. For delicious serving options, pair with a Pastamoré product such as Asian Dipping Oil, White Truffle Oil or Roasted Tomato Blend Dipping Sauce. Toss with steamed vegetables, grilled Italian sausage or beef medallions to enhance the flavor of the dish.
Enjoy the goodness of Gluten-Free!
*Cooking time is based on high altitude (5,280 feet). Lower elevations may need to decrease cooking time.
Vegan
Ingredients:
– Brown and White Rice Flour
– Xanthan Gum
– Garlic
– Chives
– Onion
– Extra Virgin Olive Oil
Made in a gluten-free, dairy-free, soy-free and nut-free facility.
No Trans Fats.
12 OZ (341g)
---
Only logged in customers who have purchased this product may leave a review.