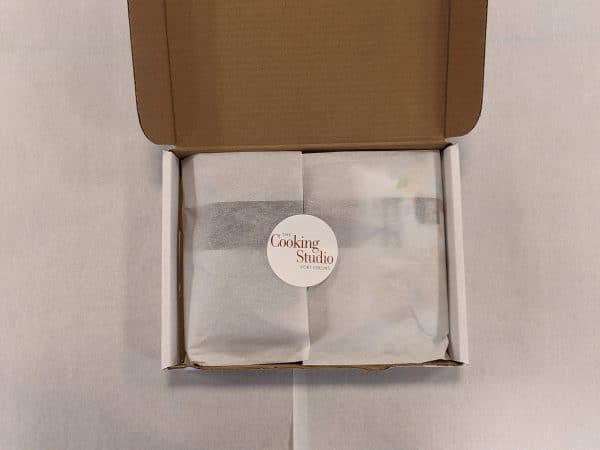 French Macaron Baking Kit in a Box
$38.50
You can purchase your kit here and have it delivered right to your door or pick it up at The Cooking Studio on Saturday! The kit includes equipment, recipes and other items needed to make macarons at home. Please note: perishable ingredients, like eggs, will still need to be purchased before the macarons can be made. That means you don't have to worry that something in this kit will expire before Christmas.
If you'd like to add a box of ready to eat macarons, you can order those from Wild Bakery, another vendor here at the market.  The pre-made macarons are perishable and should be ordered close to Christmas should you choose to add them to your gift. Pease use this link to buy the pre-made macarons: Wild Bakery
Availability:

12 in stock
Sold By: The Cooking Studio
Description
Macarons are colorful, delicious and fun to make. They also make great gifts. However, getting the right recipe, special equipment and flour can be a barrier to success.
We've tested this recipe with our teen testing group with great results. And just in case the first batch isn't up to your standards, you have enough almond  flour and piping bags to make a second batch!
We've filled the box with the special things you need along with some gift boxes to surprise your friends with your beautiful macarons.
The items that come in the kit are below. You only have to buy a few common grocery items before you start baking and most people will already have those items in the pantry/refrigerator.   We even send you a link to a video of our Chef Instructor demonstrating making the macarons!
Items in your kit
One 8 oz bag almond flour (enough for 2 batches)
6 pieces of special parchment paper marked for macarons
6 piping bags
1 piping tip
1  silicon spatula
1 small bottle of food coloring
3 small gift boxes
1 length ribbon/twine for gift boxes
1 lg Parchment paper
1 Macaron recipe
A link to the step by step video demonstration by our Chef Instructor
---
Only logged in customers who have purchased this product may leave a review.