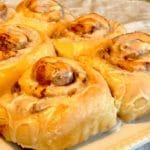 Cinnamon Rolls – Set of Twelve (12)
$35.00
You get 12 smaller gooey, delicious, melt in your mouth cinnamon rolls that are baked in the pan.
Sold By: Cinnamon Decadence
Description
All our products are made to order and for that reason are not returnable or refundable. Place your order for a box of 12 cinnamon rolls and they will be baked fresh for your delivery on Saturday, or for you to pick up on Saturday, starting at 12 noon – 2 pm.
Set of twelve (12) cinnamon rolls, melt in your mouth goodness, baked in small batches using organic ingredients.
Yeast, Flour, Shortening, Butter, Sugar, Eggs, Milk, Powdered sugar, Vanilla, Salt, Cinnamon
May be frozen for later use. Heat in 250* degree oven for 15 minutes for just baked freshness.
Microwave 15 seconds at a time
Our products are produced in a home kitchen that is not subject to state licensure or inspection and that may also process common food allergens such as tree nuts, peanuts, eggs, soy, wheat, milk, fish and crustacean shellfish.  This product is not intended for resale and is part of the Cottage Food Act.