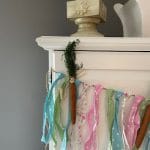 Description
Now this is a fun piece for Spring/Easter.
The garland is made from ripped pieces of fabric, staying true to the spring colors.
The carrots are made from dyed, stuffed canvas. Topped with a treated grass like ferns.
60″ long X 7″ high.
Market Place container is for sale on my site.
Green orb lights NFS.