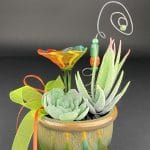 Prism Blown Glass Flower Succulent Planter Combo
$49.99
Glass flower succulent flower pot, full of fun and fancy twists with an explosion of color!
Sold By: Vivo Glass Design
Description
Everlasting handblown glass flowers come in many shapes and sizes, but this arrangement is just about the best way to enjoy them! We know you will love the simple beauty of this succulent potted plant with its companion colorful glass flower and whimsical twisted wire partner.
This gorgeous combination will surely delight anyone on your gift-giving list, but don't feel bad if you decide to keep it for yourself, because this little beauty never needs watering, trimming, or sunlight.
Handcrafted blown glass flower and artificial succulent plants are placed into a gorgeous colorful pot, it is so real looking that you will find yourself giving it water from-time-to-time. Believe it or not, my sister was given one and she watered it for a year until I told her it was an artificial succulent combination. What a belly laugh that was, but truth be told, this beauty is still in her home bringing her not only a belly laugh of a conversation piece, but it actually brightens up her window sill where her other plants sit basking in the sun!
The unique blown glass flower is made from colorful borosilicate linework tubing and handcrafted in beautiful Wellington, Colorado. This planter combination sits about 7″ tall (including the flower), and comes with ribbons and matching twisted wire, as well as the beaded curly-cue for some extra fun!
Simply place this little gem on your table and have succulents and flowers every day! Water and sun not required.